New Group: Vintage Vocals Singing Group
VINTAGE VOCALS: EDINBURGH'S NEWEST SINGING GROUP
We are delighted to announce the launch of the newest singing group in Edinburgh, Vintage Vocals!
Meet new friends and rediscover beautiful music through the decades in a fun, relaxed setting.
Our fortnightly group starts on Friday 10th November 10.15 – 12.00 at Edinburgh's Methodist Church, Nicholson Square EH8 9BX.
---
*Update: The venue for Vintage Vocals (now Vocal Vibes) is Liberton Kirk Hall – for up to date information on our groups please go to our Groups page.*
---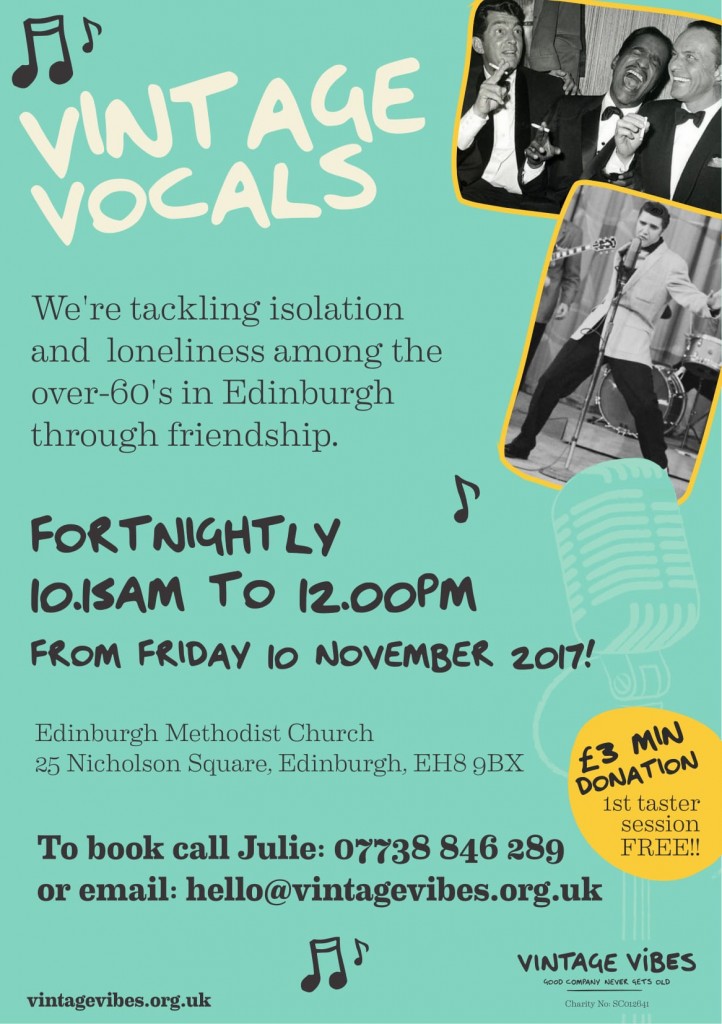 Vintage Vibes is a charitable partnership that tackles loneliness by creating much-needed friendships between VIP's (over 60's) and local folks. This venture is funded by Neighbourhood Partnerships, and we aim to offer older people ways to connect in order to help improve their health and mental well-being.
Vintage Vocals singing group will cover music through the ages and provide an opportunity for those who may be socially isolated to meet with younger people and try something new.  Volunteers of all ages will offer support and encouragement too! No previous experience necessary.
Suggested donation for participating is £3.00, with the first session being free!
---
GET IN TOUCH:
To book a free taster please contact Julie: 07738 846 289 or Email: hello@vintagevibes.org.uk
CLICK HERE TO FIND OUT ABOUT ALL OUR GROUP EVENTS!